HC Vic Fangio details roles for Graham Glasgow,…
3 min read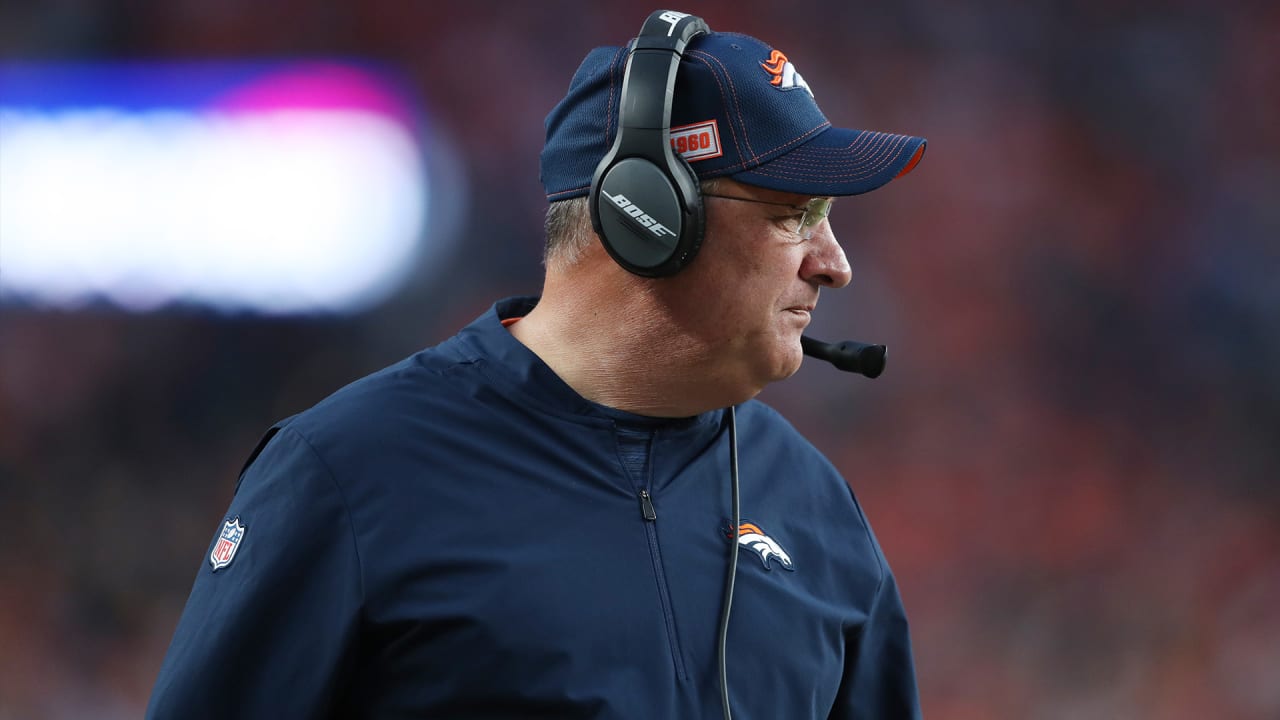 ENGLEWOOD, Colo. — The Broncos won't hit the practice field for organized team activities until at least May, but Head Coach Vic Fangio already knows how he'd like to utilize several of the team's newest additions.
On the offensive side of the ball, Fangio said he expects offensive lineman Graham Glasgow to play at guard rather than center.
"Right now, I think we're thinking guard, but he can play center just as well and that's always good to have," Fangio said Wednesday. "The more versatility you have [the better]. It's been commonplace now for many years for the offensive line to dress seven players per game, and the more versatility you have amongst those seven guys, the better off you are. I'm confident no matter how it shakes out, he can play center or guard equally well."
Glasgow officially signed his four-year deal with the Broncos earlier this week and said he preferred to play right guard, where he spent almost the entirety of the 2019 season.
At running back, Fangio said the Broncos are still figuring out how new running back Melvin Gordon and two-year starter Phillip Lindsay will work in tandem, but he expects there to be plenty of carries for each player.
"Exactly how that will look remains to be seen, but it's pretty common right now in the NFL that most teams have two backs that do the bulk of the ball-carrying … [and divvy] up the third-down responsibilities. So I don't see it as a problem getting enough work for both of them. We're happy to have them both."
Fangio said Gordon, a two-time Pro Bowler, brings versatility to the Broncos' offense.
"I just think he's a quality running back, both when he's toting the rock and when he's running pass routes," Fangio said. "I think he can pass protect. I think he's a very versatile running back in that he can do all the jobs a running back has to be asked to be done, and I'm excited to have him."
Defensively, Jurrell Casey will continue to serve as a solid interior presence. The former Titan is a five-time Pro Bowler and one of only 10 players with at least five sacks in each of the last seven seasons.
"[The Titans] played some packages late in the year where they had him outside, but he's an interior defensive lineman that will hopefully be providing good inside pass rush, good strong play against the run," Fangio said. "With our guys on the edge, that's real imperative."
The Broncos were able to target Glasgow, Casey and Gordon — and cornerback A.J. Bouye — after extensive work from both the personnel department and coaching staff.
"There was a lot of prep work that went into it," Fangio said. "We had all the coaches' input, the pro scouts' input, John [Elway]'s input, Matt [Russell]'s and myself. We came up with some guys that we'd target and would like to get, and with the help of [Vice President of Football Administration] Rich Hurtado doing the contract end of it, we were able to come up with some guys that will really help us moving forward."
https://www.denverbroncos.com/news/hc-vic-fangio-details-roles-for-graham-glasgow-melvin-gordon-jurrell-casey