Drew Lock vows to put in extra work to help…
3 min read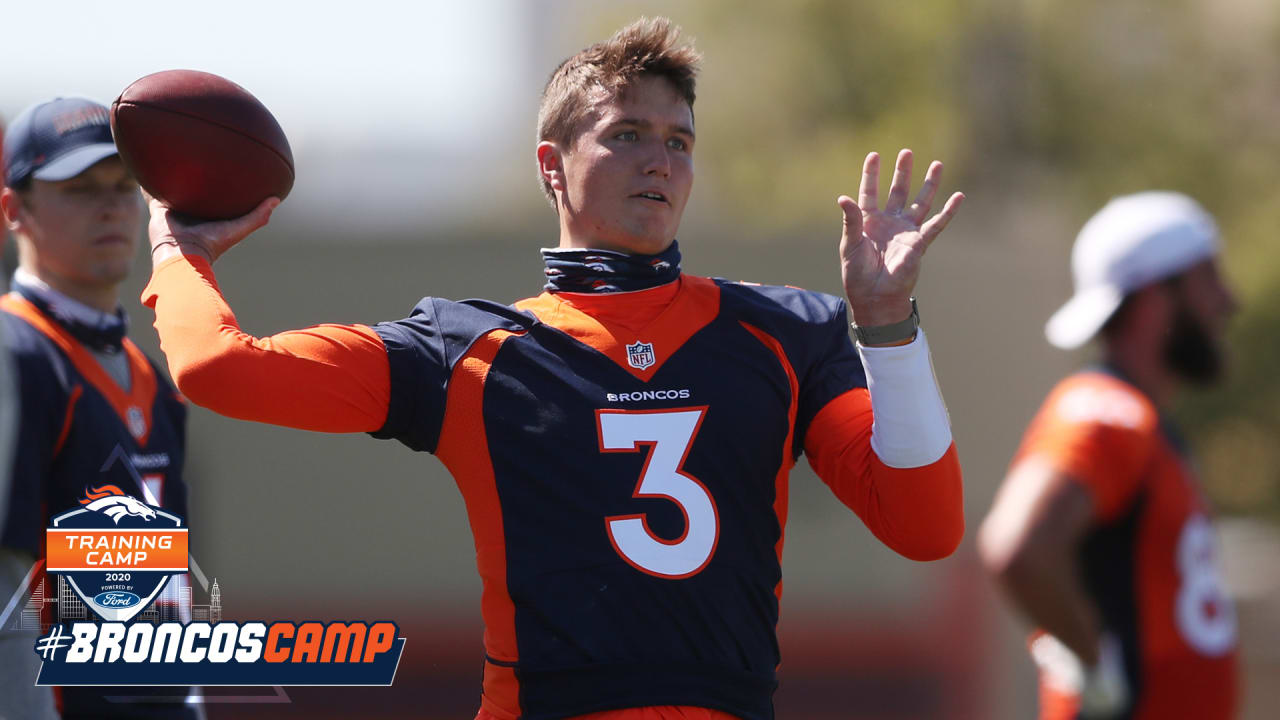 Now that the Broncos are back on the field and back in the huddle, Lock can display a degree of leadership that he tried to limit early in his time as a rookie. The respect he now has from his teammates was earned across his time on injured reserve as a rookie, across his five starts and across this past offseason. Lock said earning that respect was his first goal as a quarterback, and he believes the relationship he now has with his teammates will prove valuable in training camp and this fall.
"For me to be able to feel like what I did last year and the comments from everyone this offseason and just being able to walk into the locker room and feel like I have the respect of everybody, that is 100 percent the one goal that I set for that first year, just gaining respect from this team," Lock said. "Now that I have that, there's no worries about personalities [or] making relationships because we all know who I am. I know everybody on this team, I know how they act, I know who they are as person. Now it's time for ball, to where if I need to jump someone, I'm not the rookie anymore yelling at a third- [or] fourth-year guy. It's 'That's Drew yelling at us. That's Drew getting on us.' It's a whole different mentality behind having a second-year quarterback rather than a rookie quarterback."
If Lock does get after his teammates following a bad rep, it's tied back to his desire to meet expectations. That, in part, is why he emphasized that he thinks he and his teammates won't waste time at the facility and will take the proper safety precautions while away from UCHealth Training Center.
"I think everyone gets 24 hours in a day," Lock said. "We're all allowed the same amount of time in our facility. We all have professional coaches that have been in this game for a long time. We all get to learn and be with them the same amount of time. It's an even playing ground. It's just going to be what we do with the time that we get together. Yes, we are young, but when you're young, you're pretty hungry right as you get in here."
If there is an adjustment period for the young offense, Lock's job will be to shorten that as much as possible. When Shurmur installed his offense in New York in 2018, the process didn't take horribly long.
After scoring 15 and 13 points in Weeks 1 and 2, respectively, the Giants scored at least 27 points in two of their next three games. Following their Week 9 bye week, New York met that 27-point mark in six of eight games.
Perhaps, aided by a strong defense, Lock and Co. can better that output — both on the scoreboard and in the win column. Despite their scoring success late in the year, the Giants finished just 5-11. Denver's veteran defense, though, could help the Broncos form a more complete team.
Time is certainly limited. Just 45 days remain before the season opener. Drew Lock, though, seems motivated to make every moment count.
https://www.denverbroncos.com/news/drew-lock-vows-to-put-in-extra-work-to-help-broncos-offense-be-ready-for-2020-se